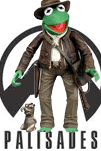 Muppets!
World of Toys: Episode 18
(November 12, 2010)
After a look at the toy offerings in the current Previews, Shane and Pants dive into the wonderful world of Muppets! It's a packed episode discussing the figures, the sets, the exclusives and more of the Palisades Toys Muppets line. (1:49:07)
Listen to the show!
Add this episode to your website
Share
Shownotes
Related Episodes
Comments
Show notes coming soon.
Look up your favorite comics (Superman, Black Cat) or topic (Artist Interviews, Reviews)