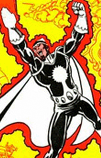 Enter: the Fearsome Five!
The Tower: Episode 5
(August 20, 2010)
New Teen Titans 3! Titans Villains for Hire Special! Titans news! And Booster Gold! How does it all connect? Find out in this episode featuring the debut of the Fearsome Five! (1:31:12)
Listen to the show!
Add this episode to your website
Share
Shownotes
Related Episodes
Comments
Show notes coming soon.
Look up your favorite comics (Superman, Black Cat) or topic (Artist Interviews, Reviews)