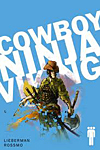 Off the Rack: Cowboy Ninja Viking
CGS: Episode 751
(December 18, 2009)
The creators of Cowboy Ninja Viking, A.J. Lieberman and Riley Rossmo, join us to discuss their awesome new book from Image Comics. CNV is one of the most exciting and interesting new comics we've seen in a long time.
Listen to the show!
Add this episode to your website
Share
Shownotes
Related Episodes
Comments
Show notes coming soon.
Look up your favorite comics (Superman, Black Cat) or topic (Artist Interviews, Reviews)