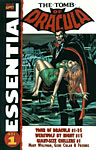 Essential Tomb of Dracula vol.1
CGS: Book of the Month Club
(October 31, 2005)
Believe it or not superhero comics weren't always the most popular. In the 70s horror comics ruled them all. In our 5th book of the month club episode we take a look at one of Marvel's most popular horror comics, Essential Tomb of Dracula volume 1. We are joined by the book's writer Marv Wolfman as he helps us to understand the reasons the book was so popular.
Listen to the show!
Add this episode to your website
Share
Shownotes
Related Episodes
Comments
Show notes coming soon.
Look up your favorite comics (Superman, Black Cat) or topic (Artist Interviews, Reviews)