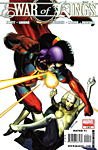 War of Kings Issue 2
CGS: Episode 605
(April 9, 2009)
The battle for control of the Marvel cosmic universe continues. Find out what Black Bolt and all the rest are up to. (54:06)
Listen to the show!
Add this episode to your website
Share
Shownotes
Related Episodes
Comments
Show notes coming soon.
CGS: Episode 590

(2009-03-11)

Marvel's new cosmic event has officially started. We've really been enjoying Marvel's cosmic universe these last few years, so we decided to check this series out and see if it continues the great new trend.
Look up your favorite comics (Superman, Black Cat) or topic (Artist Interviews, Reviews)