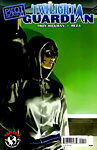 Talking Twilight Guardian with Troy Hickman
CGS: Episode 525
(October 9, 2008)
Twilight Guardian was one of the two winners of this year's Pilot Season contest at Top Cow. We spoke with writer Troy Hickman about his creation as well as his history with comics. (53:31)
Listen to the show!
Add this episode to your website
Share
Shownotes
Related Episodes
Comments
(01:13) INTERVIEW
We talk with
Troy Hickman
about getting into comics,
Twilight Guardian
, some of the auto-biographical elements in the story, challenging himself for future stories, creating mini-comics, living in Indiana and more.
(44:08) IRON THE PANTS
Submitted by Jeff Colburn.
FORUM FEEDBACK
On Episode 525
LISTEN HERE:
Look up your favorite comics (Superman, Black Cat) or topic (Artist Interviews, Reviews)