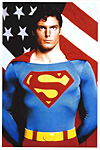 Spotlight on Superman in Other Media
CGS: Episode 506
(September 3, 2008)
ILM's Tom Martinek joins us for a look at Superman cartoons, movies, TV shows, novels and more. We also talk with Marc Tyler Nobleman about the Boys of Steel: the Creators of Superman illustrated biography.
Listen to the show!
Add this episode to your website
Share
Shownotes
Related Episodes
Comments
Show notes coming soon.
Look up your favorite comics (Superman, Black Cat) or topic (Artist Interviews, Reviews)