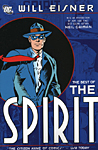 Best of the Spirit
CGS: Book of the Month
(March 28, 2007)
Will Eisner is one of the most important men in comics. In this episode we take a look at a collection of stories of his flagship creation, The Spirit. We are joined by Will's friend and business partner Denis Kitchen. Denis lends up his expertise and helps us understand why Will is so important.
Listen to the show!
Add this episode to your website
Share
Shownotes
Related Episodes
Comments
Show notes coming soon.
Look up your favorite comics (Superman, Black Cat) or topic (Artist Interviews, Reviews)