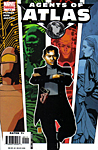 Off the Rack: Agents of Atlas 1-6
CGS: Episode 236
(March 26, 2007)
Mark your calendars! In this episode we announce Episode 300. We also analyze the recent Marvel mini series Agents of Atlas. And for the second half of the episode we give you the first half of a discussion on what continuity means to you.
Listen to the show!
Add this episode to your website
Share
Shownotes
Related Episodes
Comments
Show notes coming soon.
Look up your favorite comics (Superman, Black Cat) or topic (Artist Interviews, Reviews)