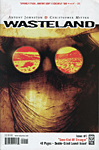 Off the Rack: Wasteland 1-6
CGS: Episode 223
(February 7, 2007)
We've been talking about it for months, now we are going to give it its due. It's time for Wasteland. Writer Antony Johnston joins us to discuss the first 6 issues of his amazing new series from Oni Press. Get your sun screen ready.
Listen to the show!
Add this episode to your website
Share
Shownotes
Related Episodes
Comments
Show notes coming soon.
Look up your favorite comics (Superman, Black Cat) or topic (Artist Interviews, Reviews)