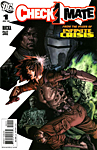 Comic Talk
CGS: Episode 206
(December 4, 2006)
What do you want to hear you say? Comics talk? You got it! In a new segment we take a look at the first five issues of Checkmate. We also discuss Jimmie Robinson's recent letter to the comics world and give our opinions.
Listen to the show!
Add this episode to your website
Share
Shownotes
Related Episodes
Comments
Show notes coming soon.
Look up your favorite comics (Superman, Black Cat) or topic (Artist Interviews, Reviews)