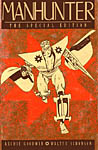 Manhunter
CGS: Book of the Month
(November 29, 2006)
It came out of nowhere in the early 70s, and it made a lasting impression on many people. Loyal listener Stewart MacWilliam (a.k.a. Wet Rats) joins us to discuss the series that made him a comic collector, Manhunter by Archie Goodwin and Walter Simonson. Also stopping in to give his thoughts on the series is the penciller himself, the great Walter Simonson.
Listen to the show!
Add this episode to your website
Share
Shownotes
Related Episodes
Comments
Show notes coming soon.
Look up your favorite comics (Superman, Black Cat) or topic (Artist Interviews, Reviews)