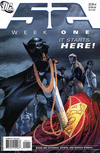 52 Month 1
CGS: Special
(June 14, 2006)
The first four issues of DC's 52 have come and gone. In this episode we talk about what's happened, and what we think might happen. And of course Peter fills us in on all the little details we missed.
Listen to the show!
Add this episode to your website
Share
Shownotes
Related Episodes
Comments
Show notes coming soon.
Look up your favorite comics (Superman, Black Cat) or topic (Artist Interviews, Reviews)