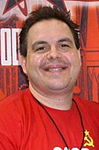 Story Time with Uncle Sal
CGS: Episode 145
(June 8, 2006)
Because we just can't get enough, it's time once again for Story Time With Uncle Sal! In his funiest appearance yet, Atomika creator Sal Abbinanti joins us again for more convention stories. We also take a look at this month's Previews and make all of our top picks. This episode is not safe for work, or children.
Listen to the show!
Add this episode to your website
Share
Shownotes
Related Episodes
Comments
Show notes coming soon.
Look up your favorite comics (Superman, Black Cat) or topic (Artist Interviews, Reviews)