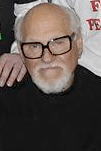 Classic Geek Speak: A Conversation with Gene Colan
CGS:
(June 24, 2011)
The comics community has lost a true gentleman and a brilliant craftsman of the art. In honor of his life and amazing work, we represent our conversation with Mr. Gene Colan from December 2005. (1:02:53)
Listen to the show!
Add this episode to your website
Share
Shownotes
Related Episodes
Comments
Show notes coming soon.
Look up your favorite comics (Superman, Black Cat) or topic (Artist Interviews, Reviews)