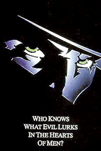 CGS Presents: Comics With or Without Pulp Episode 1
CGS:
(June 17, 2011)
It's the first episode of Comics With or Without Pulp, a new spin-off podcast spotlighting the many characters of pulp fiction. Matt, along with guest Al Torchsong Sparrow, discusses the history, comics, radio shows and movies of ...the Shadow! (1:05:15)
Listen to the show!
Add this episode to your website
Share
Shownotes
Related Episodes
Comments
Show notes coming soon.
Look up your favorite comics (Superman, Black Cat) or topic (Artist Interviews, Reviews)