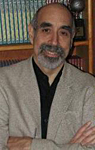 Conversation with J.M. DeMatteis
CGS: Episode 103
(February 8, 2006)
Spider-Man, Justice League International, Abadazad. Huh? No, this isn't the beginning of another Stump the Rios segment, these are all books written by J.M. DeMatteis. In this episode we get the scoop from J.M. himself on these titles and a whole lot more. (1:27:12)
Listen to the show!
Share
(00:35)
Sponsor
New York Comic Con 2006
.
(03:24)
Comic News
The creators of
Horrorwood
from
Ape Entertainment
will be at Wizard World L.A.
(04:39)
Quarters in the Jar
Listener emails from Sean Whelan; Chuck Colletta from Bowling Green; Wetrats; and Tom Martinek.
(06:54)
Interview
With J.M. DeMatteis.
(07:28) His introduction to comics, the titles he's worked on and his
transition into writing comics.
(13:57) On Amazing Spider-Man: Kraven's Last Hunt and Moonshadow.
(20:01) On writing fairy tales for children and adults such as Abadazad
(coming out from Hyperion Books) and working with Mike Ploog.
(32:54) On Stardust Kid, all-ages literature, Justice League, working with
Keith Giffen and "neo-vaudeville".
(47:05) On Hero Squared, Planetary Brigade and Boom Studios!
(54:51) On conventions, podcasting and our wrap-up.
(1:03:13) Our post-interview wrap-up.

(1:09:53) Stump the Rios
Submitted by Scott Rubin.

(1:13:01) Call Me
We talk with Matthew "Zoombini" Park.

(1:21:21) Voice Mail
From Drew M.

Old Forum Feedback
On Episode 103
On Horrorwood

Websites Mentioned
Our interview with Rob Schwager on the Pulse.


Look up your favorite comics (Superman, Black Cat) or topic (Artist Interviews, Reviews)