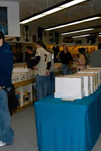 What is the Role of the Comic Book Retailer?
CGS: Episode 1058
(April 18, 2011)
Following up on our discussions on the roles of the Reader and Publisher, we now turn to Comic Book Retailers. What is their purpose? What makes for a good store? And what is their position in the comic book industry food chain? (1:24:02)
Listen to the show!
Add this episode to your website
Share
Shownotes
Related Episodes
Comments
Show notes coming soon.
Look up your favorite comics (Superman, Black Cat) or topic (Artist Interviews, Reviews)