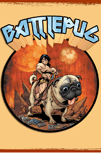 Webcomic Spotlight: Mike Norton's Battlepug!
CGS: Episode 1021
(February 23, 2011)
Mighty Mike Norton returns to fill us in on his newest endeavor, Battlepug! the webcomic! It's dog meets Conan from the artist on the current Young Justice comic. We also learn of his return to the character of Gravity in the Fear Itself Youth in Revolt mini-series and more! (46:33)
Listen to the show!
Add this episode to your website
Share
Shownotes
Related Episodes
Comments
Show notes coming soon.
Look up your favorite comics (Superman, Black Cat) or topic (Artist Interviews, Reviews)