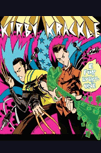 The Music of Kirby Krackle!
CGS: Episode 938
(October 7, 2010)
In time for their New York Comic Con plans, we talk with Jim Demonakos and Kyle Stevens of the band Kirby Krackle! Listen in to hear the stories behind the songs off their latest album E for Everyone. (1:21:51)
Listen to the show!
Add this episode to your website
Share
Shownotes
Related Episodes
Comments
Show notes coming soon.
Look up your favorite comics (Superman, Black Cat) or topic (Artist Interviews, Reviews)