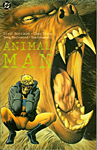 Animal Man vol.1
CGS: Book of the Month Club
(December 29, 2005)
Grant Morrison. Animal Man. Wile E. Coyote?! No words can explain what you are about to hear. Join us as we discuss Animal Man volume 1 along with special guest Geoff Klock.
Listen to the show!
Add this episode to your website
Share
Shownotes
Related Episodes
Comments
Show notes coming soon.
Look up your favorite comics (Superman, Black Cat) or topic (Artist Interviews, Reviews)