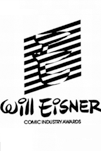 Eisner Nominees for 2004
CGS: Episode 17
(May 2, 2005)
Highlights from the 2005 Eisner Nominations, Important Comic Dates for May and Peter takes a dive in Stump the Rios! Holy Mother of Grok! (42:40)
Listen to the show!
Share
(00:35)
QUARTERS IN THE JAR
Listener Emails! Bruce Rosenberger of
Dutchy Digest
says "listening is almost like the good ol' days hanging around the comic shop on Friday nights";
Los Comic Geekos
ask our thoughts on the recent announcement that Rob Liefeld will be drawing
Teen Titans
.
(08:31)
IMPORTANT COMIC DATES
Comics history for the month of May.
(17:07)
COMIC TALK
We take a look at the Eisner Award nominees for work done in 2004. Brian K. Vaughan leads the pack with 7 nominations.
(36:00)
STUMP THE RIOS
First audio submission hosted by Chris from the
Collected Comics Library
Podcast.
Look up your favorite comics (Superman, Black Cat) or topic (Artist Interviews, Reviews)