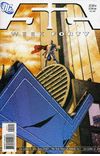 52 Month 10
CGS: Special
(March 12, 2007)
The month of big reveals! These four issues were jam packed full of secret-revealing goodness. Forum regular Ping33 joins us from the UK to help us dissect these issue and look at every detail.
Listen to the show!
Add this episode to your website
Share
Shownotes
Related Episodes
Comments
Show notes coming soon.
Look up your favorite comics (Superman, Black Cat) or topic (Artist Interviews, Reviews)