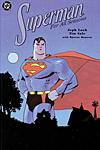 Superman For All Seasons
CGS: Book of the Month
(July 31, 2006)
This month Superman Returns got all the attention, but there are even better Superman stories out there. Join us as we take a detailed look at the Jeph Loeb / Tim Sale delight.
Listen to the show!
Add this episode to your website
Share
Shownotes
Related Episodes
Comments
Show notes coming soon.
Look up your favorite comics (Superman, Black Cat) or topic (Artist Interviews, Reviews)